The Steps & Procedures For Sponsoring A Spouse Immigration To Canada. Couple immigration to Canada ranges from spousal sponsorship to more conventional spouse visa Canada requirements that include one partner as a dependent. The same applies to same-sex couples and common-law partners as well.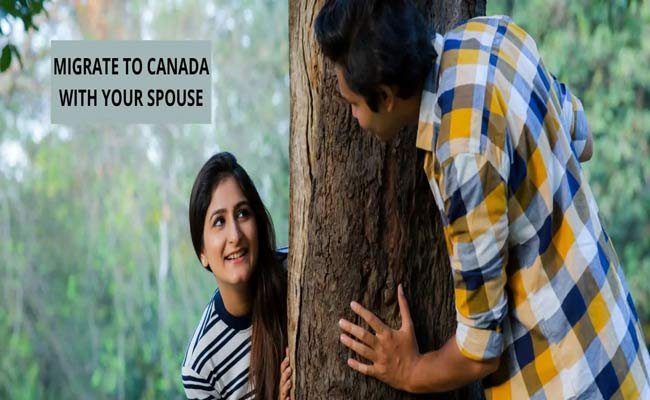 The Spousal Sponsorship Category which is part of the Family Class immigration is one of the simplest methods to bring your spouse to Canada. It is also the most ideal choice for individuals who have a spouse in Canada or are wedded to a Canadian who can sponsor them for permanent resident status.
If the application is sent in as a couple, the Sponsor must first obtain permanent residency in Canada. An application for sponsoring a spouse can be submitted only after the Sponsor has obtained permanent residence status. People who immigrate as dependent on their partner are allowed to seek permanent residency together.
The Steps & Procedures For Sponsoring A Spouse Immigration To Canada
Relationship Requirements For Spouse Immigration
Spouse:
The Sponsor and the dependent must be legally married.
If the marriage took place in Canada, a certificate of marriage from the province is required.
If the marriage took place outside of Canada, it must be legal both in the country— where it takes place and in Canada.
A same-sex marriage that occurred outside of Canada is not eligible for this category, but they can apply either of the two listed above.
Common-Law Partner
The sponsor and the dependent must have lived together for at least a year.
Conjugal Relationship
Candidates who may not be eligible for the other two categories due to exceptional cases— limitations on same-sex marriages in their home country or other migratory impediments. The Sponsor and the dependent must show a degree of loyalty financially and emotionally that lasts at least a year.
Requirements For Sponsor Applicant
At least 18 years old.
Must be a Canadian citizen or a permanent resident living in Canada.
Must not have any criminal record.
Have not been sponsored as a spouse within the last five years.
Requirements For Sponsored Applicants
To participate, you must be at least 16 years old.
Not a close relative of the sponsor.
Express Entry
The Federal Skilled Workers Program, the Federal Skilled Trades Program, and the Canadian Experience Class are the three main immigration programs run by the Canadian federal government. All these programs are controlled by Express Entry. Couples can settle permanently in Canada through the Express Entry program—
The main applicant names the spouse as a dependent or a secondary applicant.
Note:
Couples with dependents can only apply to the Federal Skilled Worker and Federal Skilled Trades Programs.
The Canadian Experience Class is preferable for young bachelor/ bachelorette, working professionals.
Main And Secondary Applicant
Applicants must show verification of funding through the Federal Skilled Worker and Federal Skilled Trades Programs. But here, the partner is considered a contributor to the program.
This implies that when applicants build their Express Entry profile through one of the available programs, they can earn up to 1,200 points. Out of 1200 points, the partner's profile assessment attributes to 40 points.
These 40 points help in adding up the average score, given that the average CRS score is between 430 and 460.
CRS Factors Added/Subtracted By The Spouse
Language Proficiency
The Canadian Language Benchmark (CLB) is determined by the candidates' abilities to read, speak, listen, and write English and French language.
Educational Qualifications
The index tracks post-secondary education (from Canada or abroad).
Candidates with Canadian academic qualifications equivalent to a master's degree or above receive maximum points.
Age
Candidates between the ages of 20 and 29 receive the maximum points, while individuals over 47 years old receive no points.
Work Experience In Canada
Candidates with job experience in Canada with a minimum of two years are awarded higher scores. It is important to consider which partner has the strongest profile before applying–
name that person as the main applicant. If your partner has better creditability, it is worth listing them as a secondary applicant. If they would score poorly, consider listing them as a dependent.
Applying With Dependents
If you designate a partner as a dependent, the primary applicant must verify sufficient means to reside in Canada with the dependents.
Note. 
The profile of the partner does not affect the CRS score.
Financial requirements are based on the number of dependents.
Conclusion
Beginning a new life might be intimidating if you are on your own. It is not uncommon to witness immigrants facing difficulties in bringing their families along with them to Canada due to legal procedures. But this does not have to be the situation—
even if you gain permanent resident status on separate occasions, some avenues permit you to migrate to Canada at the same period. All you have to do is find the proper spousal sponsorship Canada program for you and your spouse. And we have discussed them above. We hope this helps!